Dentistry For Nervous Patients In Central London
With Dr Frances At Tavistock Dental, London
Call 0207 837 5638 For A Stress Free, Anxiety Free, Complimentary Consultation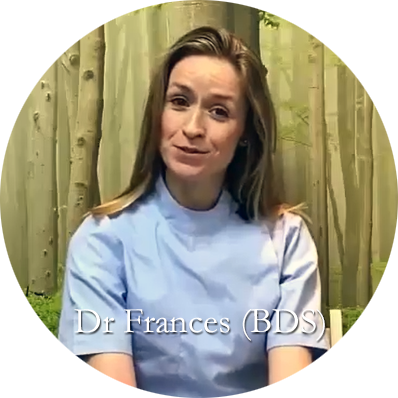 Nervous About Seeing A Dentist? Don't Worry, We Are Here To Help!
Got a question or want to chat?
We created the Dentistry For Nervous Patients website specifically for people who are fearful of seeing a dentist. Dr Frances has been working with nervous patients for over 15 years. She designs treatment programs specifically for anxious dental patients. She has devoted a large part of her dental career to the study and understanding of Dental Anxiety, adopting new approaches to dealing with your issues and concerns.
"I Have Experienced No Pain During Treatment"
I struggled to find a practice with which I was satisfied for several years but Tavistock Dental (Now Dental Smiles London) has proved very satisfactory. The dentist and hygienists I have seen have been friendly and competent and I have experienced no pain during treatment. I would recommend the practice wholeheartedly. S.K
Introducing Dentistry For Nervous Patients From Tavistock Dental And Dental Smiles London With Dr Frances.
A trip to the dentist can cause anxiety for many people. If you feel nervous about any aspect of your visit to see us, be assured that the team here are trained to help make your visit as stress free as possible. Nervous patients are often labelled as having dental phobia. This is a valid condition and can be treated with a slightly modified approach to the provision of dental care.
Many of these people are so fearful about coming in that the health of their mouth suffers as a result. People who avoid the dentist are more likely to have problems with their gums and be more prone to infection and gum disease.
It is important to see a dentist regularly so that if issues with your mouth do arise they can be treated swiftly and can prevent the damage done to your smile becoming irreversible.
The good news is that with advances in dentistry there is now no need for you to be in pain whilst at the dentist!
Don't Take Our Word For It, See What Our Patients Say About Us…
My experience with Tavistock Dental was really superb! The staff in the reception front desk, Joana, was friendly and made my waiting time worthwhile. The hygienist was friendly and accomodating. He made sure I was comfortable during the entire procedure and did a really good job cleaning my teeth

and teaching me about oral hygiene. I will definitely come back. Highly recommend!

read more
I recently visited this dental clinic for a root canal treatment and I must say, the service provided was top-notch. Not only was the price reasonable, but the staff members were also incredibly helpful and friendly.Adnan, the consultant who performed my root canal, did an excellent job.

Throughout the procedure, I didn't feel any discomfort and everything went very smoothly. His expertise and skill were evident, and I was highly impressed with the results.In addition, I cannot fail to mention Ioannna, the lovely receptionist. She was warm, welcoming, and extremely helpful. Her positive attitude and willingness to assist made my overall experience even more pleasant.I highly recommend this dental clinic for anyone in need of quality dental care. The professional and friendly staff, reasonable prices, and excellent service make it a fantastic choice.

read more
I had a root canal here and couldn't recommend them more highly, the whole process was really smooth and the staff were amazing - really accommodating and supportive. The procedure was pain free and I felt informed at every step. Couldn't ask for anything more! Thank you Tavistock - beyond grateful

xxx

read more
I was so anxious about having my wisdom tooth removed, but dr Samir and the team made me feel at ease straight away and it was a very smooth process and I felt really taken care of.Highly recommended!
A very understanding and kind specialist who helped calm my nerves by communicating with me throughout my procedure. I am a very anxious person and he was really patient.
Really good and gentle dentists. I had A LOT of injections for my root canal and subsequent crown and it didn't hurt. They explained everything and we're so patient. Shout out to the receptionist (not putting her name online!) she's really friendly.
Tavistock Dental is truly outstanding when it comes to teeth cleaning. The level of professionalism and care demonstrated by their team is remarkable. From the moment I walked into their office, I felt welcomed and well taken care of.The dental hygienist at Tavistock Dental was highly skilled and

knowledgeable. They efficiently and effectively cleaned my teeth, leaving them feeling fresh and rejuvenated. Throughout the procedure, they made sure I was comfortable and at ease. Their friendly demeanor and gentle approach made the experience pleasant and stress-free.What impressed me the most was the emphasis on patient education. The hygienist took the time to explain proper oral hygiene techniques and provided valuable tips for maintaining healthy teeth and gums. They answered all my questions patiently and provided personalized recommendations. This educational component left me feeling empowered and motivated to take better care of my oral health.The overall atmosphere at Tavistock Dental was welcoming and clean. The office staff was friendly and efficient, ensuring a smooth and hassle-free visit. The state-of-the-art equipment used during the teeth cleaning showcased their commitment to staying up-to-date with the latest dental advancements.In conclusion, Tavistock Dental exceeded my expectations with their exceptional teeth cleaning service. Their professionalism, attention to detail, and dedication to patient care make them a top choice for anyone seeking a thorough and comfortable teeth cleaning experience. I highly recommend Tavistock Dental to anyone in need of professional dental care.

read more
I visited in mid-2023, almost 10 years after my last visit. I'd had issues with mental health & addiction that meant that I avoided treatment for that time.When I got back in touch with the clinic, I spoke with Joanna, the receptionist who was really lovely, got everything arranged and made

coming back easy.When I arrived for my appointment, Joanna greeted me and made me feel very welcome and comfortable. She has excellent interpersonal skills and a very caring manner, which really set the tone for the experience from the moment I walked in. I've rarely experienced such a warm welcome in a healthcare setting.I have been living with HIV for 10 years. I work for a HIV charity and hear about poor and stigmatising experiences from our service users living with HIV all over the UK about accessing healthcare, especially dentistry. That made me nervous about the kind of experience I might have. I needn't have worried. The team collected all the necessary information from me and treated me exactly the same as any other patient, which is what you should be able to expect.I saw Jack, the dentist. He was professional, courteous and has a very gentle and caring manner, which I really appreciated. He was great at explaining what was going on, what his recommendations were and why and what my options were. I had two fillings and an extraction and it was a painless and calm experience throughout.I would highly recommend Tavistock Dental to anyone seeking high-quality dental care that seeks to take as much care of the patient's mental health as their oral health.

read more
Procedure was pain free for a root canal and the entire process was comfortable with each part explained to me and constant check ins to see if I was okay. Would recommend.
To say I am nervous about going to the dentists is an understatement. I am terrified... but needs must.At Tavistock Dental, from Jo, the receptionist; to Arj and Frances, the dentists; and Kristina, the nurse; they took my fear seriously and adapted the consultation to my needs. The concern for my

welfare felt genuine. Everything was discussed thoroughly and honestly, alternatives and options suggested. I have no memories of the day itself, which is exactly what I wanted.I could not recommend enough. Excellent care that goes the extra step.Great team of people

read more
Great teeth cleaning service here! They teach you how to brush correctly as well and give you good teeth hygiene tips. Very excellent service to book an appointment as well. I was able to get one for next day. My hygienist was Sayed and nurse Shaiiya. Both put me at ease for anyone who gets nervous

at the dentist.

read more
Got a question or want to chat?
We Never Judge You Or Your Teeth
What We Do For Nervous Patients
We understand how coming to the dentist and having treatment can be the scariest thing in the world for some people. But the good news is, we're the most sympathetic clinic at understanding your fears and your anxieties.
You might have an image in your head of what dentistry is all about, but that is entirely different to what we do here.
We spent a long time making sure that when a patient comes here they have the calmest, most gentle, and most importantly, pain free experience possible.
The Process For Nervous Patients
The most important thing for you to know is we would never judge you. I have seen it all. No matter what state you think your mouth is in, I will have seen something far worse, trust me.
The first step would be to call and arrange a meeting with me. We can chat in a non-clinical environment, away from the dental chair.
We can talk about what you're scared of, what you're worried about, and what your concerns are, and I'll talk to you about what I can do.
I use sedation, which is like feeling sleepy, cosy, and comfortable. With that technique we do your treatment and you're unaware of it.
We Offer The Latest Technology
We have invested in the best modern technology, meaning, that when possible, we do as much work as we can during your sedation appointment.
As a result, we usually get you finished all in one day. Our patients are happy with only coming for one visit
The great thing about sedation dentistry is you're competently unaware you are having treatment. You're asleep.
We have such a friendly bunch of receptionists. Please give them a call, and they can direct you and talk you through any questions you might have.
Frances Was Wonderful, Very Patient, I Don't Remember The Treatment
Its Pain Free And Its Hassle Free, I'd Recommend It, Its The Best
Sign Up For A Complimentary Sedation Consultation
Are you nervous about seeing the dentist, but concerned about your teeth? The good news is Dr Frances and her team are here to help you.
For a complimentary consultation with Your Personal Smile Guide Call 0207 837 5638, Email info@tavistockdental.co.uk or pop your details into the form.
Your appointment will be calm, relaxed, and stress free. You don't need to sit in the dentist chair, you can simply talk to your Smile Guide, discuss your fears and concerns and she will tell you how she can help.
Contact Dentistry For Nervous Patients Today
Call 0207 837 5638
Where We Are Located: Tavistock Practice
Tavistock Dental 16 Tavistock Place, Bloomsbury, London WC1H 9RU, UK
Opening Times: Monday to Thursday 7.30am – 8.00pm, Friday 7.30am – 5.00pm
Call Us On 0207 837 5638 or Email info@tavistockdental.co.uk